In 2018, Vaison Sport began manufacturing flexible FT3 approved tanks, to date more than 250 cells have been manufactured for vehicles ranging from hill racing to F1.
Fabriquant de réservoir homologué FT3
Manufacture by vulcanization. Vulcanization ensures homogeneity and perfect sealing of the product (manufacturing similar to a tire).
Use of a metal mold which ensures a constant and precise geometry (+ \ - 1mm) of the external shape and positioning of the flanges.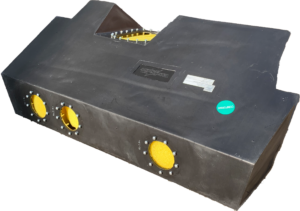 En 2020, avec le soutien de l'Union Européenne, VAISON SPORT a fait l'acquisition d'un autoclave qui permettant une parfaite maîtrise des opérations de vulcanisation des réservoirs.